January 25, 2020 – Cheezy
Saturday, January 25, 2020
VBC Meeting #83: Cheezy
Host of the Month: Neva, Ramon, and Slynn
Location: Denton, TX
For our Cheezy theme we paired cheesy music with cheezy foods listening to a Spotify Cheesy Hits playlist while sampling vegan cheese-style edibles.
This is what we made: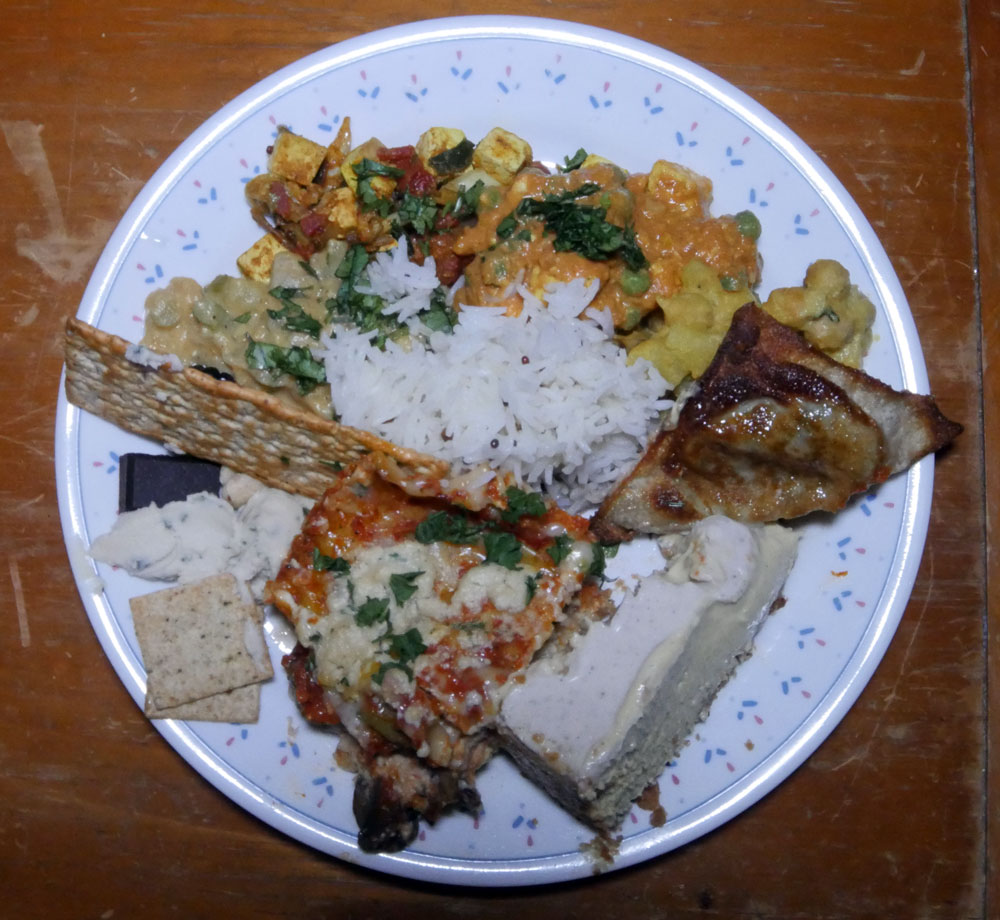 Marcia: Broccoli Cheese Potato Wontons
Marcia borrowed her cheezy idea from a friend who likes making wontons but whose boyfriend prefers American style food. She separately boiled broccoli and potatoes in salt water. After mashing the potato, she added salt, pepper, vegan butter, and Daiya cheese then add the broccoli. She put one tablespoon of filling in each wonton wrapper and fried them for one to two minutes. She also prepared a dipping sauce of liquid amino acid, sesame oil, and red wine vinegar.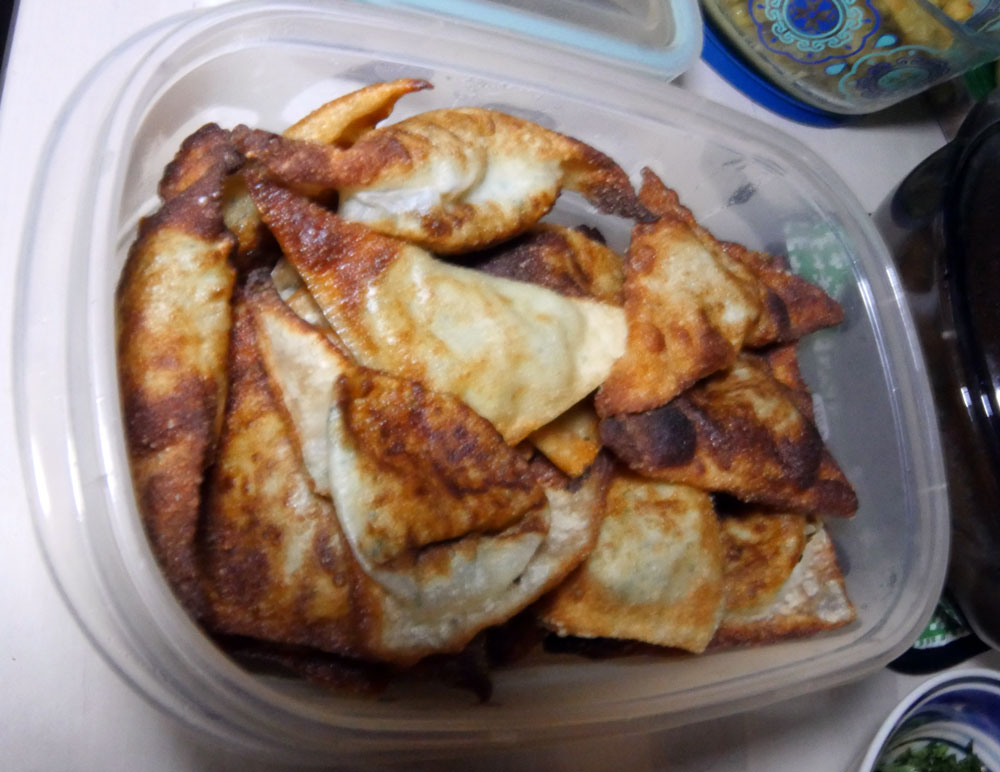 Lauren: Hearty Vegetable Lasagna
Lauren made a weighty vegan lasagna from America's Test Kitchen Vegan For Everybody that included a ricotta-style vegan cheese made from boiled cashews and cauliflower. To give this mixture extra flavor she added lemon juice and rejuvalac. For the sauce she blended whole and diced canned tomatoes with herbs, using fresh parsley in addition to fresh basil. The lasagna's veggie layer included eggplant, mushroom, and zucchini. After piling up the pasta, sauce, and vegetables, she topped it with Daiya cheese and baked it covered for one hour, turning halfway between. The dish was finished by adding more of the cauliflower cashew cheese and sprinkling over some extra herbs.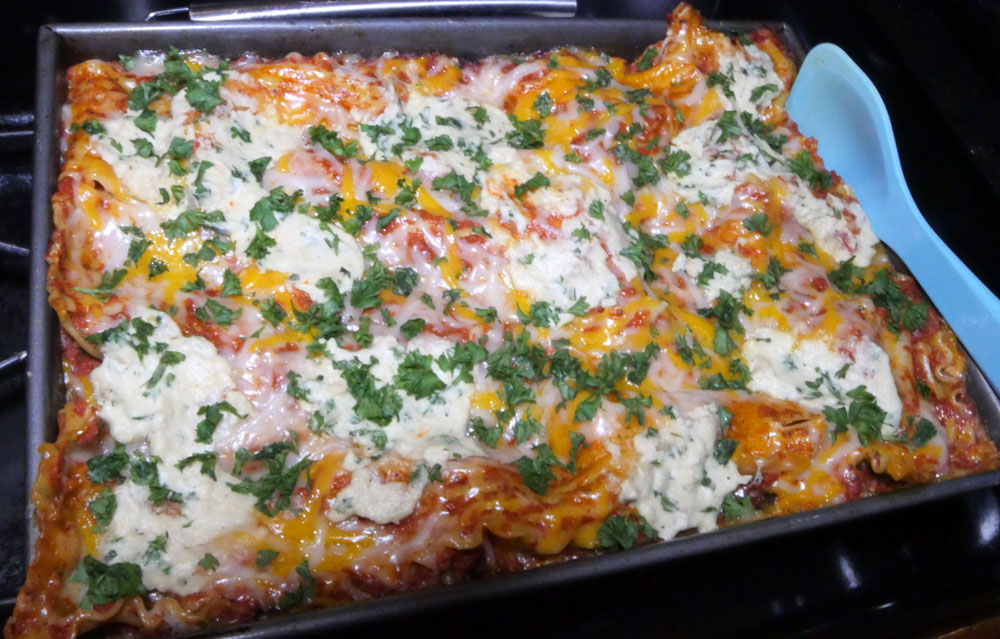 Caroline: Vegan Cheese Plate
Working a Saturday shift at the library up until the time of this meeting, Caroline put together a beautifully delicious cheese plate of Miyoko's Chive Cheese, blackberries, dark chocolate, blanched almonds, and two kinds of crackers, one of which was the yummy Back to Nature Pink Himalayan Salt Multigrain Crackers.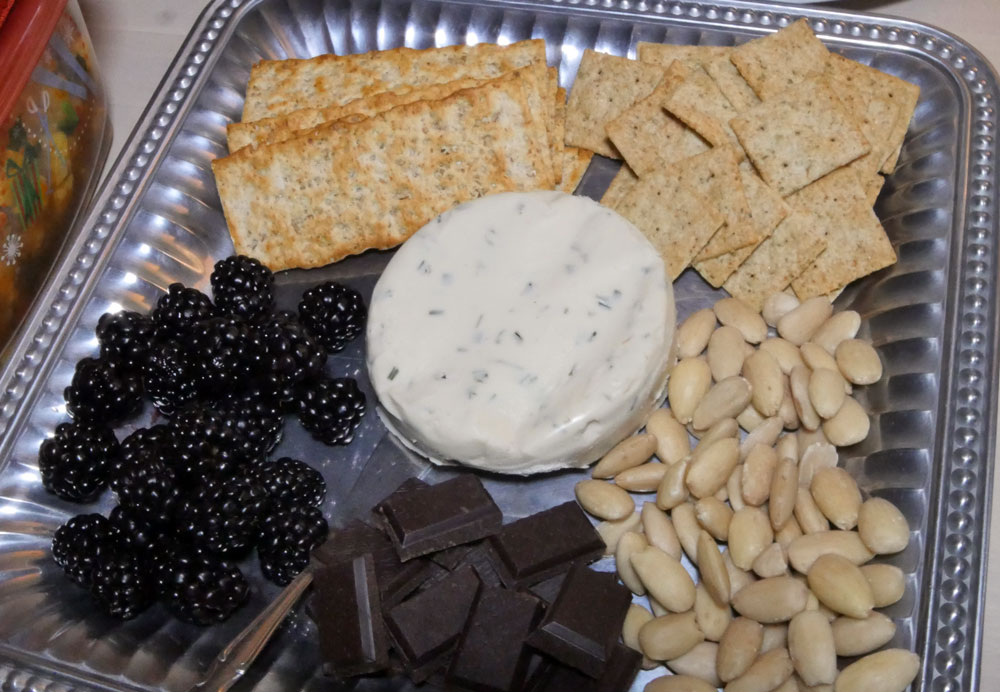 Lilly: Cheezy Squash Potato Beans
Lilly made her dish by sautéeing squash in coconut butter, then adding parboiled red potatoes and garbanzo beans. She seasoned this with fresh thyme, turmeric, and salt then mixed it in a pot with a cheezy sauce made with coconut butter, nutritional yeast, saffron (Lilly's signature ingredient), and Daiya pasta cheese sauce from one of their mac and cheese products.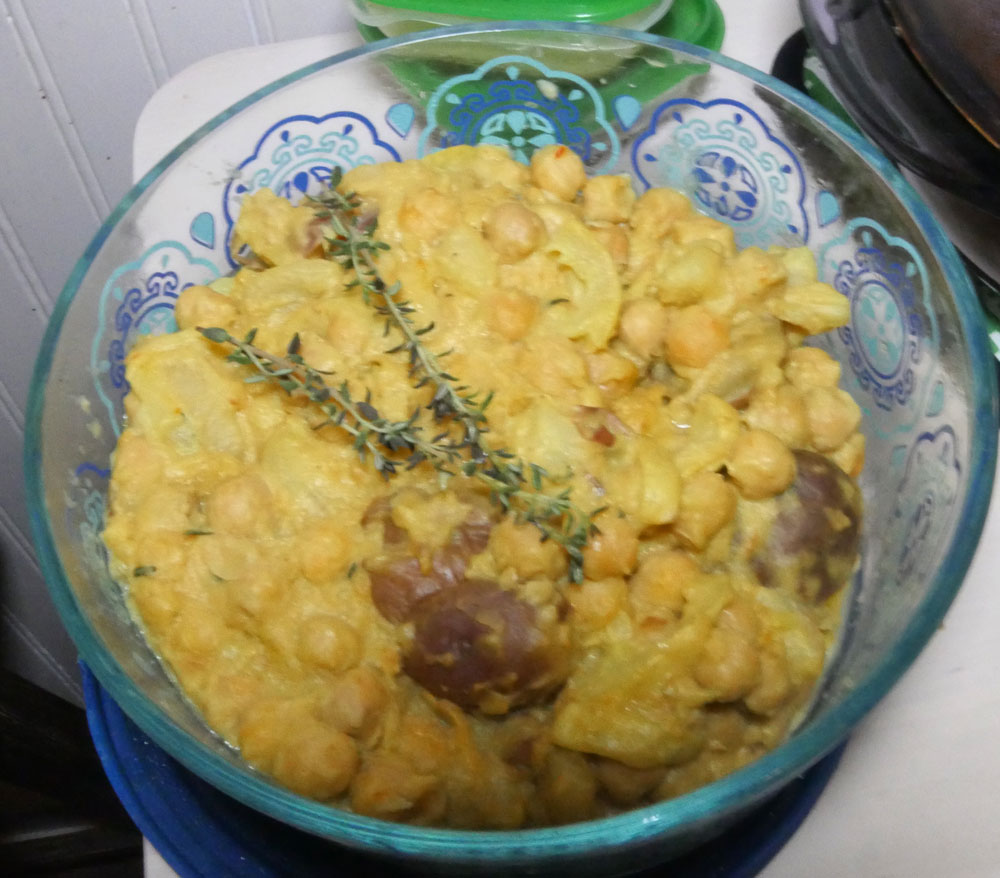 Drew: Vegan Broccoli Cheese Casserole
Drew made us a vegan broccoli cheese casserole from the Connoisseurus Veg. He sautéed mushrooms, onions, and garlic, then added vegetable broth and brown rice to cook. He separately boiled russet potatoes and carrots that were then puréed. All of this was combined with broccoli, white miso, soymilk, nutritional yeast, lemon juice, salt, and pepper. Since this casserole doesn't go in the oven, Drew efficiently skipped putting this in a casserole dish to save on washing.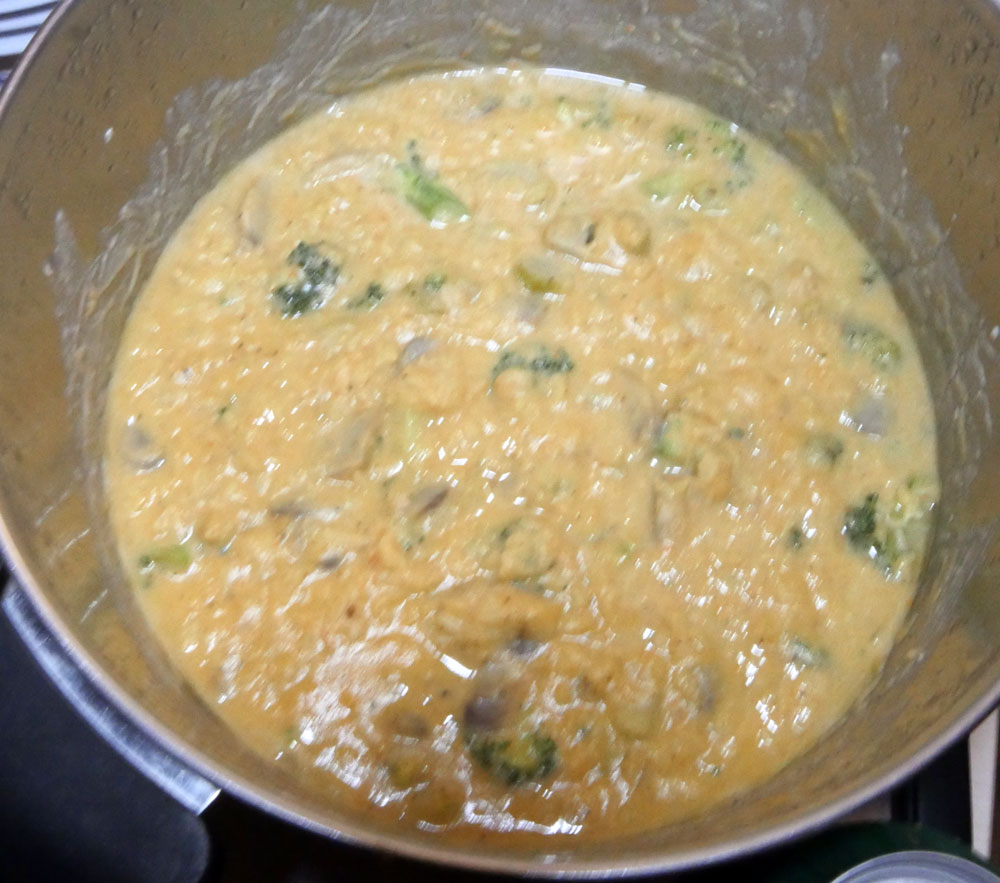 Billy: Vegan Jalfrezi
Billy made a vegan paneer-style cheese by soaking tofu in some rejuvalac then pan frying it with nutritional yeast, lemon juice, and black salt. To round out the jalfrezi, he cooked cauliflower, onion, fresh ginger, Swiss chard, and carrot seasoned with a variety of Indian flavors.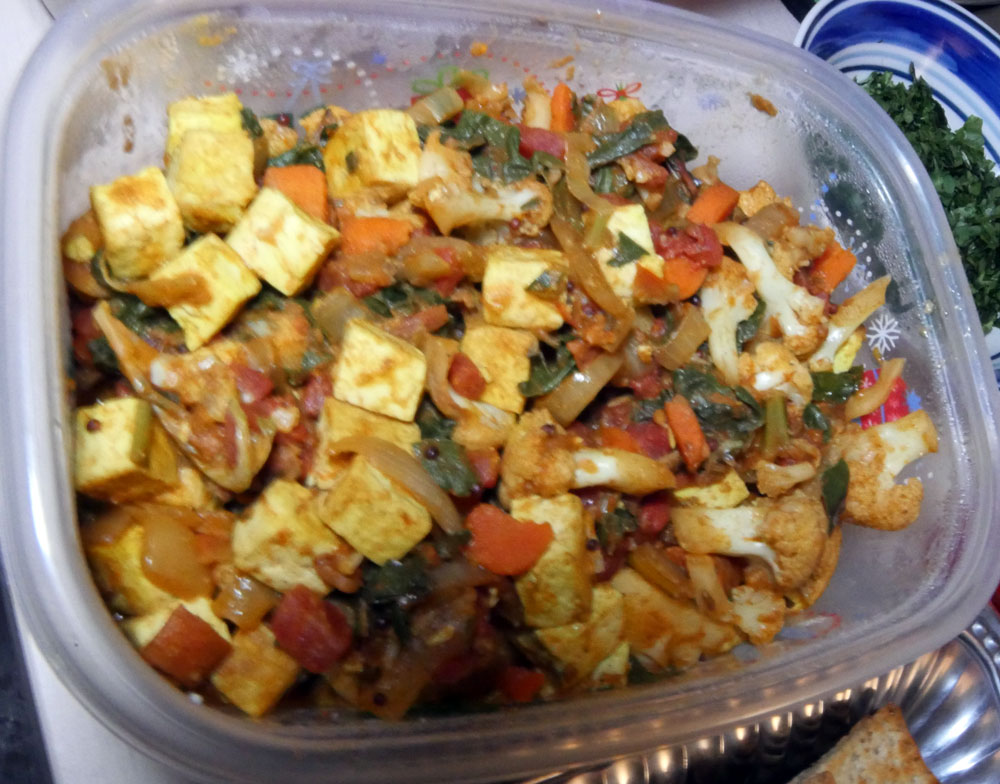 Neva: Plastic Grapes; Plastic Cheese
Not yet old enough to use the stove, Neva opted to bring us vegan foods in the form of plastic.
Ramon: Vegan Butter Tofu Paneer with Frozen Peas
Like Billy, Ramon decided to take an Indian route on his vegan cheese, making Vegan Richa's Butter Tofu Paneer. He marinated cubes of firm tofu in a mixture of garam masala, paprika, turmeric, salt, ginger paste, garlic, lemon juice, nutritional yeast, water, and oil then baked them at 400° for about 18 minutes. The paneer-style tofu was folded into a vegan "butter" sauce made from a purée of tomato, half a serrano pepper (to keep it mild for those who need it so), ginger, and garlic further flavored with cashew cream, lemon juice (a Ramon diversion from the recipe), garam masala, paprika, cayenne, fenugreek leaves, salt, and sugar then thinned with water. For a green nutritional pop, Ramon also tossed in some frozen peas.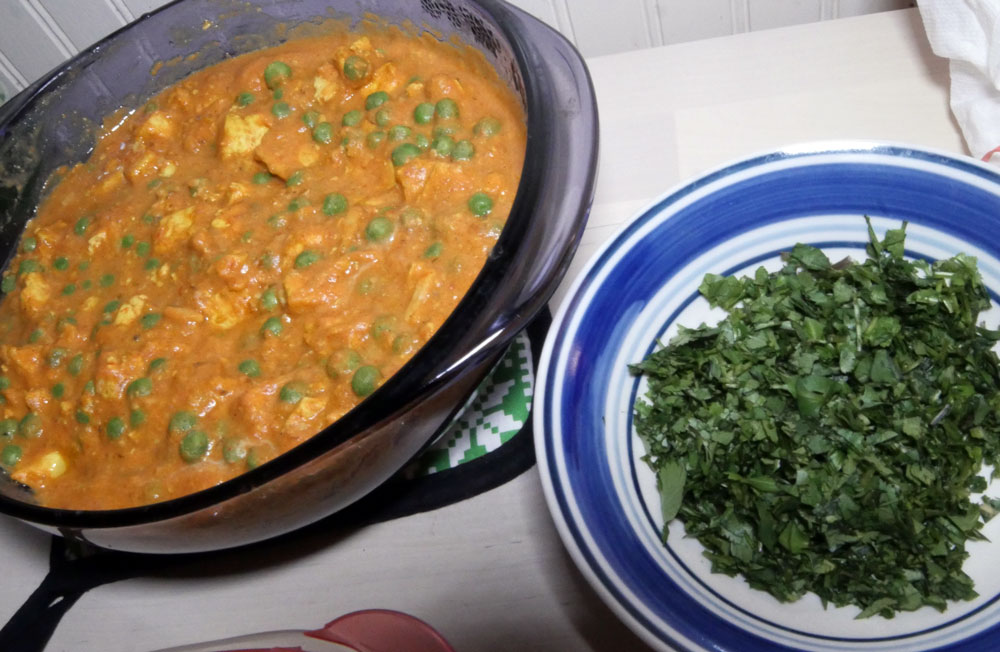 Slynn: Mango Cheesecake
Slynn made a crust of crushed graham crackers, pecans, sugar, and margarine. She filled it with Tofutti Cream Cheese, fresh mango purée, cashew cream, cornstarch, sugar, and cardamom. She baked it then put on a vegan sour cream topping, flavored with sugar and cardamom, and baked it some more. To prevent the cheesecake cracking on top, she cooked it with steam by adding water to a tray in the oven.